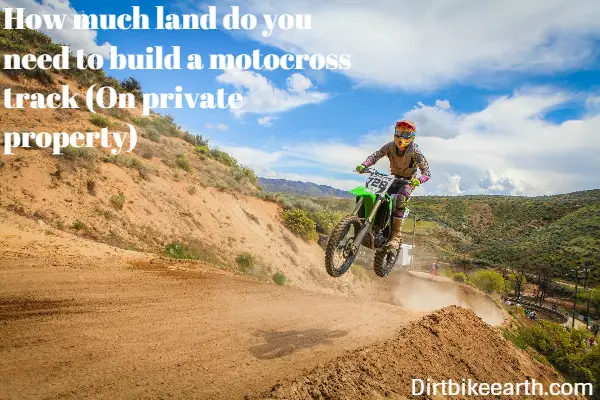 Building a motocross track on private property
To build a motocross track for your dirt bike or to host others on a track requires quite a bit of land. But in reality if you're building a dirt bike track for yourself how much land do you need to build a motocross track? Let's take a look…
How much land do you need to build a motocross track? Motocross or scramble tracks on private property for your own use can start at about 1/2 acre of land. But you're probably best to acquire an acre-plus of land to create a reasonable sized personal motocross track. An acre will allow you to have features that include undulating land with whoops, mounds and jumps.
But be aware that planning permission may be required for the creation of the man-made jumps. Think about noise levels and the location of your motocross or scramble course.
How much land do you need to build a motocross track?
To be clear at the outset, this article is about how much land you need to build a motocross track for yourself and perhaps your family or friends. I'm not going to look at how to build a commercial motocross track in this article. Perhaps this can be the content of another article at a later stage.
I remember when I was younger we had use of a farmers field where we had permission to build a small motocross track. It was a simple circuit which had ruts, whoops (or dips) and jumps. In fact it had one quite large jump too. We had great fun there and it was large enough for three-four riders at a time.
From memory this site was probably around 10-20 acres or so and was quite sufficient for what we wanted. This was quite a large dirt bike track we had, so we were lucky. But I'd say that if you could find a plot of land at least 1/2 to 1 acre this would be a good start.
My friend had a small dirt bike track in his garden
When I say 1/2 an acre for a small dirt bike track, this is a good start. My friend had a small track with mini jumps in his parents backyard. We used to go around this track and it really helped with our skills and confidence.
Whilst 1/2 acre is quite small, and I wouldn't necessarily suggest you create one in your back garden like my friend. This will avoid upsetting the neighbours, so I'd suggest to create a reasonable motocross track that an acre or more would be better.
Other considerations for building your own motocross track for dirt bikes
You probably can't just buy a plot of land and build a motocross track on it, even if it is private property you own. There are many considerations before you build a motocross track.
Considerations for motocross track on private property are as follows:
Buy or rent the land: If you have the funds to buy a field this may be the best option. You own it and can do what you like with the land. Of course subject to laws and taking account of its location. But if you don't have the funds to buy the land, you could rent a field or do what we did and speak nicely to a local farmer.
Location of the land: Never underestimate the noise levels of dirt bikes. Especially if you're running 2-stroke dirt bikes. One dirt bike may be noisy, but if you have two, three or even four dirt bikes racing around a track this can get very noisy. With this in mind, the last parcel of land you want to use to build your motocross track would be right next to houses. You'll soon find police, the sheriff or the local noise abatement officers on your land asking you to stop the noise!
Permits and planning permission: You may find that certain parcels of land, and depending on where you live or the country where you reside, you may need planning permission or permits to use it as a motocross track. Make sure to check into these before buying or renting the land.
Be noise and decibel considerate: If you obtain the right permits or planning to build your motocross track and it happens to be near houses, be considerate to these people. This means you should think about the times you race, i.e. early morning and late evenings should be avoided. Whilst you may get the permits, you may still upset people. If you work on the basis that you treat others how you want to be treated, you can't go too far wrong.
What you'll need to create your motocross or scramble course on private land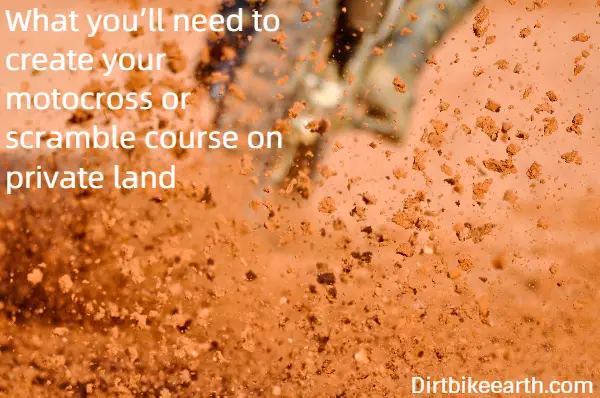 Once you have your land, be it you've bought the land or your rented it from a local farmer, what next? You need to build your course. Depending on the type of course you intend to build and how large it is, will depend on what equipment you'll need.
Equipment to build your motocross/scramble track
The type of equipment you'll need to build your course isn't much other than spades and forks. But you will need to rent a digger or hire someone in to dig your whoops (or dips) and build your mounds and jumps.
How to build a dirt bike track with shovel
If you intend to build a dirt bike track using a shovel instead it depends on how large the track is as to whether this is realistic. If you want to build large jumps using a shovel, this may take some time. Having said that it is possible to achieve.
Digging your whoops (or dips) is quite achievable using a shovel. But this does depend on how hard the land is. A whoop is a dip in the track with a mound on either side. The best way to dig one using a shovel is to mound the dirt up from the dip to either side to create the whoop.
Whilst it is possible to do this the hard way with manual tools and a shovel, depending on how high you want the jumps and how many whoops you want, a digger will be much quicker.
You'll find that the rest of the track will be dug in as you race around it on your dirt bikes. The knobbly tyres (or knobblies) on your dirt bikes will soon dig ruts and create the track you want. Plus this is much more fun than digging with a shovel!!
Enjoy this video of learning how to hit whoops on a dirt bike like a pro.
I hope you enjoyed this article about how much land do you need to build a motocross track
I'd love to hear from you. Tell us about your adventures of dirt biking in the comments below. Please also share your photos. Either from your cameras or videos from your Gopro's!
If this article hasn't answered all of your questions. If you have more questions about dirt biking (or specifically about how much land do you need to build a motocross track), please comment below with your questions.
There will also be many more articles about dirt biking for you to read and learn about this fabulous sport and hobby.
Have fun and be safe!
How much land do you need to build a motocross track? (On private property)