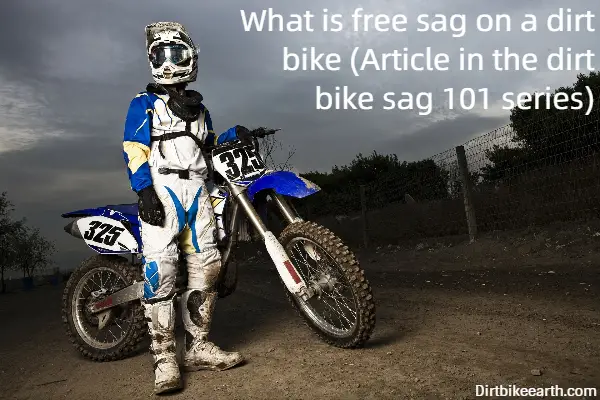 Quick fire article on dirt bike free sag
As I began writing an article on how to adjust dirt bike suspension to your weight, that article includes the term "free sag". This term needed to be defined, hence this short article to answer this question. Let's take a look…
What is free sag on a dirt bike? Free sag on a dirt bike is the suspension measurement with the wheel off the ground, which means the suspension has no weight on it. Or put this another way, and in particular with reference to "free sag", it's how much your shock absorber drops when there's no weight pushing through the suspension from the wheel.
The sag on a dirt bike can be changed to suit your style of riding. It can also be adjusted for the surface and type of dirt bike riding you're doing. Finally, you will want to set the correct rider sag to suit your physical size and weight, which is done in reference to free sag as your starting point.
More Reading: How to adjust dirt bike suspension to your weight (How to set dirt bike sag 101 series)
This article is about the meaning or free sag. But there's also rider sag as mentioned above and static sag too.
When you first buy a dirt bike, the sag will be set to the standard setting. This will be your starting point. This gives you an initial point to work from with your suspension in either direction. This is to either to increase sag, or to reduce sag.
More Reading: Dirt bike suspension sag tools for the job (Article in dirt bike sag 101 series)
I hope you enjoyed this article about what is free sag on a dirt bike
I'd love to hear from you. Tell us about your adventures of dirt biking in the comments below. Please also share your photos. Either from your cameras or videos from your Gopro's!
If this article hasn't answered all of your questions. If you have more questions about dirt biking (or specifically about what is free sag), please comment below with your questions.
There will also be many more articles about dirt biking for you to read and learn about this fabulous sport and hobby.
Have fun and be safe!
More Reading: Do's & don'ts of adjusting dirt bike sag (Article in dirt bike sag 101 series)
What is free sag on a dirt bike (Article in the dirt bike sag 101 series)