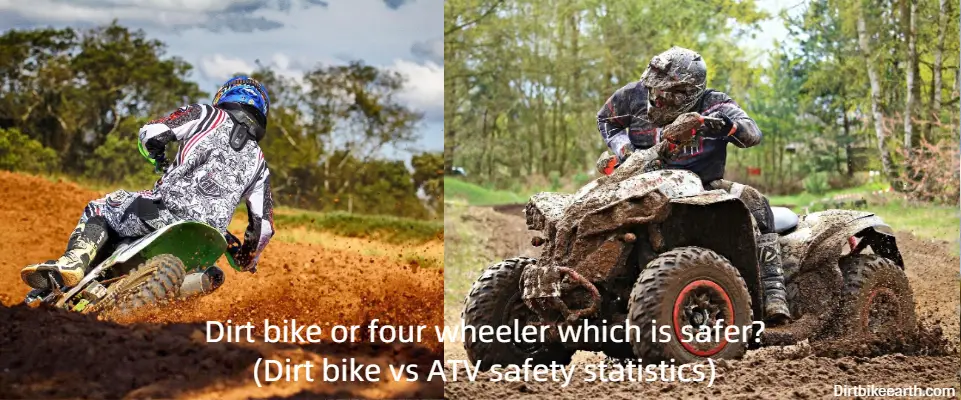 Are dirt bikes or four wheelers more dangerous?
If you're weighing up the Dirt bike vs ATV safety statistics alongside the pros and cons of each sport, take a look at my article on ATV vs Dirt Bike pros and cons, but for this article let's take a look at dirt bike or four wheeler and which is safer.
Dirt bike or four wheeler which is safer? Research and statistics show that dirt bikes are safer than ATVs as there are less fatal accidents on dirt bikes. You are more likely to have an accident on a dirt bike than on an ATVs, but victims of ATV crashes are more likely to die or suffer serious trauma than those in similar accidents involving dirt bikes.
This information crushes the belief that four wheels must be safer than two wheels. The misconception that all-terrain vehicles (or 4-wheeler ATVs and quad bikes) must be safer than dirt bikes simply is simply not true.
Dirt bike or four wheeler which is safer?
Before writing this article I took a look at four-wheel ATV's vs dirt bikes and the the pros and cons of each sport. When I wrote that article I found a few interesting safety statistics. These articles were about 4-wheeler ATVs vs dirt bike safety and included research into accidents on both vehicles.
So let's begin with the research that was done at the John Hopkins University, but more specifically the Center for Injury Research and Policy at the Johns Hopkins Bloomberg School of Public Health. This research included the following statistics relating to four-wheeler all-terrain vehicles, or ATV's.
John Hopkins University research into ATV accidents In the US during the years 1997 to 2006 summary:
Victims of ATV crashes were 50% more likely to die of their injuries than similarly injured victims of dirt bike crashes.
Four-wheeler ATV victims were 55% more likely to be admitted to a hospital's intensive-care unit (ICU) than injured dirt bike riders.
ATV victims are 42% more likely to be placed on a ventilator after an accident than dirt bike riders.
Hospitalisations for four-wheeler ATV injuries increased 150% among youths younger than 18 years.
An increase of 250% in females ages 15 to 17 experienced the sharpest rise in ATV hospitalisations.
However, males between 15 to 17 have the highest rate of ATV hospitalisation overall.
The above ATV related injuries were sourced from at PDF paper headed: Pediatric Hospitalizations for ATV-related injuries More than Double and and article headed Surprise: Two Wheels Safer Than Four in Off-Road Riding and Racing, Johns Hopkins Study Shows.
For parents, this is a comment in the same published article to take note from "All-Terrain Vehicles are inherently dangerous to children," said Stephen M. Bowman, PhD, MHA, assistant professor with the Johns Hopkins Center for Injury Research and Policy.
"While manufacturers are required to label vehicles with engine sizes greater than 90cc as inappropriate for children younger than sixteen, our data indicate that a growing number of children are receiving serious injuries due to ATV use, suggesting that parents are unaware of these recommendations or are choosing to ignore them."

Stephen M. Bowman, PhD, MHA – assistant professor with the Johns Hopkins Center for Injury Research and Policy
How do safety helmets and protective clothing make a difference to the safety statistics?
Interestingly in the research done by the John Hopkins University they didn't know why more of the ATV rider crashes lead to injury and mortality than those riding dirt bikes. They even looked at safety helmet use, which gave the following safety statistics:
60 percent of dirt bike riders involved in accidents were wearing helmets.
30 percent of four-wheeler ATV riders involved in crashes were wearing helmets.
When both ATV riders and dirt bike riders had been wearing helmets, ATV riders still experienced worse injuries.
Researchers said that it's possible the four wheeler ATV riders wear less protective clothing than dirt bike riders.
It's suggested that a contributing factor could be the significant weight of ATVs vs dirt bikes.
Picking up on a couple of these points. On the basis that there's a belief that four wheels must be safer than two wheels, ATV riders may be under the false apprehension of four-wheel safety. If the rider feels safer on a four-wheel vehicle, why would you think to wear protective clothing?
However, on the contrary and possibly due to the fact of the known dangers surrounding motorcycle riding, dirt bike riders automatically wear the right protective gear.
Average weight or four-wheel ATV vs average weight of a dirt bike
Picking up on one of the comments taken from the statistics on ATV and off-road motorcycles, it would appear there's a causal link between the weight of four-wheeler ATVs and the number of serious or fatal injuries. This is not fact, but it would make sense.
So with that in mind, let's take a look at the average weight of a four-wheeler ATV vs the average weight of a dirt bike.
Average weight of dirt bikes
The weight of a dirt bike will of course depend on the power and engine size. The bigger the cc and engine, the heavier it will be.
The heaviest dirt bike will be in the region of 160kg (352lbs), which would cause serious injury if it fell on top of you in an accident.
If you take a 250cc dirt bike these would weigh between 93kg to 127kg (205lbs to 279lbs).
The average 250cc dirt bike would therefore be around 110kg (242lbs).
Dirt bikes for younger riders between 110 to 125cc will weigh less than 93kg (205lbs) and somewhere between 72kg to 88lbs (159lbs to 194lbs).
The average 110-125cc dirt bike would therefore be 80kg (176lbs).
When you compare these weights of a dirt bike to those of the four-wheeler ATVs below, you can see why the ATV is likely to cause more serious injury or even death.
Average weight of four-wheeler ATV or quad bike
The average weight of a four wheeler ATV or quad bike will of course depend on the engine size and power in a similar way to dirt bikes. The bigger the engine, the heavier the ATV.
The heaviest four-wheeler ATV will be in excess of 400kg (900lbs).
A youth model can range from 115kg (253lbs) to 250kg (551lbs), giving an average of 182kg (401lbs). This is more than twice the weight of an equivalent youth dirt bike average weighing 80kg (176lbs).
It makes sens that an ATV will be heavier than a dirt bike. There's more to a four-wheeler ATV, as they have four wheels instead of two and generally require larger engines to drive the extra weight. Therefore, you would expect that in a similar accident where the vehicle ended up on top of the accident victim, the one with the heavier ATV on them would likely come-off worse.
How to stay safe on an ATV
To be safe on a four-wheeler ATV or quad bike, please follows the follow safety guidance:
Always wear a safety helmet.
Wear safety eye protection goggles.
Use appropriate reinforced off-road boots.
You are recommended to always wear gloves.
Even in hot weather conditions it's recommended to wear long trousers or pants and a long sleeve shirt.
Don;t over load the ATV or quad bike, always stick to the maximum number it was designed for.
Never ride your ATV where you shouldn't like on pavements and places where you'll encounter significant numbers of people.
Don't ride a four-wheeler ATV larger than you can handle.
Never allow kids to ride adult more powerful ATVs.
Consider a training course with a suitably qualified instructor.
The moral of this story is either to buy a dirt bike instead of a four-wheel ATV or quad bike. Or alternatively, make sure to buy the correct protective clothing, body armour and safety helmet every time you head out on your ATV.
Let me leave you with one final statistic, which was based on a period between 2001 and 2012 in America. According to "On Safety", on average 123 kids under 16 die in crashes whilst riding four-wheeler ATVs. This compares to 564 adults in the same period.
I hope you enjoyed this article about dirt bike or four wheeler ATVs which is safer
I'd love to hear from you. Tell us about your adventures of dirt biking in the comments below. Please also share your photos. Either from your cameras or videos from your Gopro's!
If this article hasn't answered all of your questions. If you have more questions about dirt biking (or specifically about dirt bike or four wheeler which is safer), please comment below with your questions.
There will also be many more articles about dirt biking for you to read and learn about this fabulous sport and hobby.
Have fun and be safe!
Dirt bike or four wheeler which is safer? (Dirt bike vs ATV safety statistics)