A clean air filter on a dirt bike is as important as clean oil. If your air filter isn't cleaned your dirt bike won't run as well as it should.
But can you clean a dirt bike air filter with dish soap or washing up liquid? Yes you can clean a dirt bike air filter with dish soap or washing up liquid so long as it's a foam or cotton air filter. However, for best results to maintain a properly cleaned air filter you should use air filter cleaner first to help remove the dirt and then rinse it in soapy water afterwards.
What are the different types of air filter used on dirt bikes?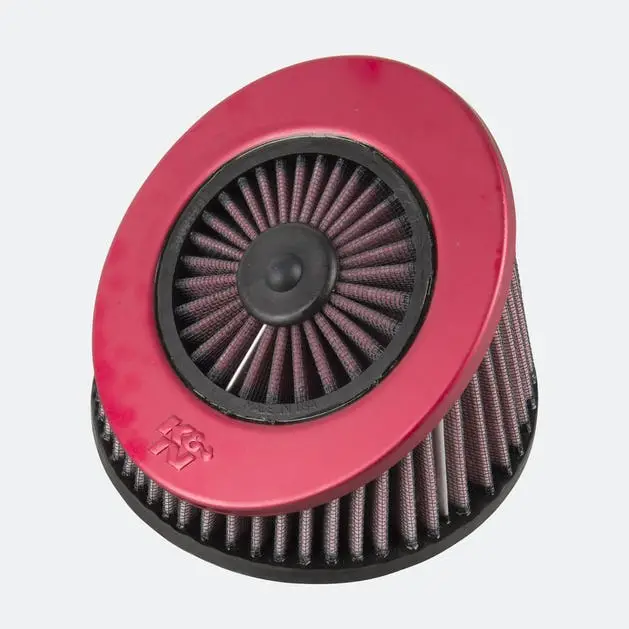 For dirt bikes there really only two types of air filter:
Foam air filters: Most dirt bikes come with a foam air filter installed. They can be cleaned and reused and are less expensive than the cotton air filter type.
Cotton air filters: Many dirt bikers upgrade their bike to a cotton K & N air filter. These are more expensive than foam filters. But cotton air filters are even longer lasting and will probably out-live your dirt bike if looked after well and are cleaned regularly. They offer better performance and higher horse power, as they offer a better air flow whilst still filtering the air flow of particles and debris.
Why is an air filter important on a dirt bike?
The air filter is there to prevent debris from entering the engine and carburettor. If debris were aloud to get inside the engine this would seriously damage the cylinder bore and also the pistons. The effect of this would be to shorten the life of your engine. If dust and debris get into the carburettor the ports will get blocked.
So if you want your engine to last, make sure to clean your air filter on a regular basis. But more importantly, never be tempted to ride your dirt bike without the sir filter in place.
Why is it important to clean dirt bike air filters?
It's as important to clean your air filter on your dirt bike as it is to change the oil in your engine. As already explained, the air filter is to prevent debris and particles from entering the engine and carburettor. But in doing so these particles and the debris get caught in the air filter and reduces its filtering capability.
For a dirt bike engine to run efficiently it needs a good supply of clean air. If the air filter is clogged, the air flow will be severely restricted. This in turn will reduce your dirt bike's efficiency and it won't run as well as it should. You should take a read of this article on how a dirt bike engine works to find out more. The article covers both 2-stroke and 4 stroke engines.
An engine that's not running as efficiently as it should will tend to over heat and won't produce as much power.
How often should you clean the air filter on a dirt bike?
You should clean your dirt bike's air filter each time you change the oil on your bike. If you get into this habit you won't forget to clean it.
But you should also clean your filter right after you've ridden on a really dirty off-road track or on a sand track or dunes, otherwise the filter will get clogged.
How do you clean an air filter on a dirt bike?
The first step in cleaning your air filter is to remove it from its housing. Then apply liberal amounts of filter cleaner and leave this to soak in and do its work on loosening the dirt and debris.
Then put the air filter into a bucket or sink of warm soapy water to rinse off the air filter cleaner and the dirt. Make sure to agitate the filter in the water to get the water to rinse out the dirt and old oil. Then shake off any excess water to speed up the drying process.
Then leave the filter to dry, which is best done by leaving it on a radiator if you have these in your house and they are on. Or leave it somewhere with good air flow so as it dries out completely. It is only at this stage you should apply air filter oil before replacing it back in your dirt bike.
Tips when cleaning a dirt bike air filter
There are a number of additional tips you should note when you're cleaning a dirt bike air filter.
Always put a rag or cloth over the air intake when you've removed the air filter. This prevents any debris from falling into the air flow path.
Don't use solvent based cleaners or petrol or gas to clean your air filters. The solvents and the additives like ethanol in fuel can damage or dissolve the glue and seams on air filters.
Before you replace your air filter after cleaning it, it must be completely dry.
But after you've dried the air filter it should be oiled with special air filter oil.
Only apply the oil filter oil when the air filter is absolutely dry.
Why do air filters need to be oiled before being used?
Air filters need to be oiled with special air filter oil as the oil helps to trap dust particles from getting through the filter.
It's important to have the whole filter saturated in oil, but also you must not have excess oil as this will restrict the air flow.
When should you replace your oil filter?
You should always replace an air filter if it has been damaged in some way. You don't want to use an air filter which has holes or tears in it, as this will allow dust and debris to get through and into the engine. It's much cheaper to replace a damaged air filter than it is to replace an engine!
You should also consider replacing your air filter once it begins to look very dirty even after a clean. The dirt in the filter could be restricting the air flow, which will reduce the efficiency of your dirt bike's engine.
Can you clean your K&N air filter with soap and water?
Because K & N air filters are made with premium cotton gauze they can be cleaned with soap and water. But you might be better to use special air filter cleaner instead and then rinse if off in warm soapy water.
Then you must remember to oil the filter with special air filter oil after it's been cleaned.
I hope you enjoyed this article about can you clean a dirt bike air filter with dish soap
I'd love to hear from you. Tell us about your adventures of dirt biking in the comments below. Please also share your photos. Either from your cameras or videos from your Gopro's!
If this article hasn't answered all of your questions. If you have more questions about dirt biking (or specifically about can you clean a dirt bike air filter with dish soap), please comment below with your questions.
There will also be many more articles about dirt biking for you to read and learn about this fabulous sport and hobby.
Have fun and be safe!
Can you clean a dirt bike air filter with dish soap or washing up liquid?